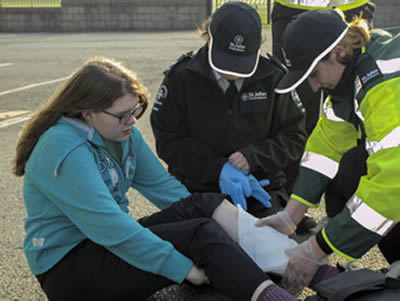 The members of Tallaght division joined St John Ambulance Ireland for a variety of reasons: some felt it would be a useful skill; others wanted to be more involved with their community. One member joined in response to death by suicide of a family member.
Despite the "huge diversity of members in the division, from different backgrounds, ages and opinions, we all have one common interest" – to help others in their community.
Tallaght is a young division within St John Ambulance Ireland, having been re-established in the last five years by Caroline Smyth-Morrissey.
Caroline was awarded her cadet first aid certificate in 1983. A fruitful three-year cadet experience was eventually bested by her love for Irish dancing, which took up most of her adolescent free time.
When recruiters for St John Ambulance Ireland visited her eldest daughter's school, Caroline felt that "it would be lovely for her to have the same experience as I did at her age."  At the cadet enrolment, Caroline was approached by the organisation with a view to re-establishing an adult division in Tallaght.
Initially hesitant, Caroline "remembered how much I enjoyed being part of the organisation and the satisfaction and fulfilment I used to get from it" and suddenly was quite excited about the prospect. Like so many other former cadets, she decided to re-join the organisation that she had been so involved with growing up. Now, Caroline heads up a small and dedicated division in South Dublin.
Caroline realises that, in an era where people's lives are busier than ever, there is a sense of reluctance around committing to joining groups or organisations, a fear that one might be unable to fulfil the time requirements.
She regularly reminds her members "while weekly attendance is an advantage, it's not a necessity and it's possible for members to be efficient members without it taking over their lives". The members often ignore her advice, sacrificing time with family and even annual leave in order to serve their community under the banner of St John Ambulance.
The adult division is made up of 12 active members, qualified at various levels across the pre-hospital spectrum. These members train weekly, and find it interesting, interactive and varied. The training is only one aspect of life within St John Ambulance, though:
"The camaraderie is very important – there is something about a group of people, all with a common cause, doing their utmost to achieve a goal"

"We have a great rapport"

"Everyone gets on with each other"

"I keep coming back because I'm a better person for having joined"
Even the parents of cadets see the benefits of their children's membership: a heightened sense of dedication, a career path, a life-saving skill, a social outlet.
Last year, the small division worked up an impressive 400-hours on public duty, locally and in conjunction with other divisions at stadia and events around the capital.
Local duties can be quite eventful, allowing members get lots of hands on experience, boosting their confidence. Larger duties are a great opportunity to meet members across the organisation, to "feel that you are an essential part of a larger organisation".