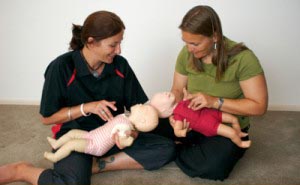 On this 4-hour course, you will learn to recognise and treat the most common illnesses and injuries suffered by babies and toddlers; everything from life threatening conditions to bumps and scrapes.
A recent survey in Mother and Baby Magazine found that 83% of parents would not remember what to do in an emergency. Even a simple knowledge of basic first aid can not only save lives, but it can also prevent long term suffering and disability.
Here at St John Ambulance, we believe First Aid is an essential parenting skill. Thus, we have created this course that will ensure the "grown ups" know exactly what to do in the case of an emergency.
Who is this course for?
This course is open to everyone who is responsible for babies and toddlers, but is especially aimed at parents or expectant parents who want to learn first aid skills. Babysitters, grandparents, aunts and uncles are all welcome to attend as well though!
What is covered on the course?
Incident management
Management of an unconscious baby or toddler
How to treat head injuries and febrile convulsions
How to treat shock and hypothermia
Resuscitation of a baby or toddler
Treatment of choking, poisoning, burns and scalds
Recognition of asthma, croup, meningitis, and treatment thereof
What will I receive on the course?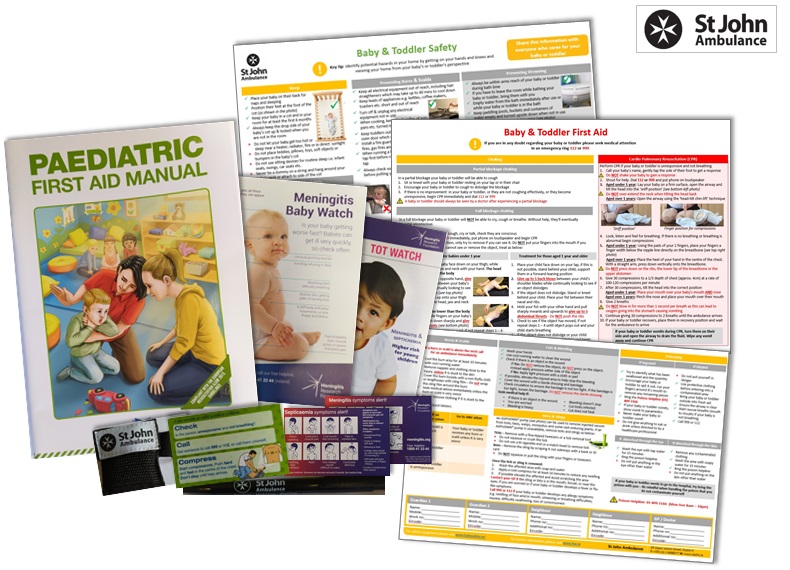 Each participant will receive the following items:
First Aid booklet
Foldable Baby & Toddler Safety and First Aid poster
Meningitis & Septicemia information leaflet and signs & symptoms card for wallet/purse
Request Emergency Dispatch (RED) Card
Keyring face shield
Will I receive a certificate in first aid?
As there is no formal assessment on this course, a St John Ambulance Certificate in First Aid is not issued, however, learners will receive an electronic Certificate of Attendance
What precautions are in place in light of Covid-19?
Since the onset of the COVID-19 outbreak, St John Ambulance Ireland has put strong measures in place to help prevent the spread of the virus and protect the health of our members and members of the public while carrying out our training courses. These measures include:
Prior to attending one of our training courses, learners will need to complete a visitor declaration form. On review of this form, St John Ambulance confirm your attendance. On the day of the course, learners will need to confirm there have been no changes to their visitor declaration form and they are symptom free.
Markers outside of the training hall indicate 2-meters social distancing. Learners will enter the porch and sanitise their hands using an elbow operated dispenser before entering the hall. Inside the hall there are markings on the floor outlining the walk routes to ensure social distancing is maintained. Learners will be asked to remain in these walk ways.
Learners will complete the practical in their own 'pod' which is separated either side by clear-perspex.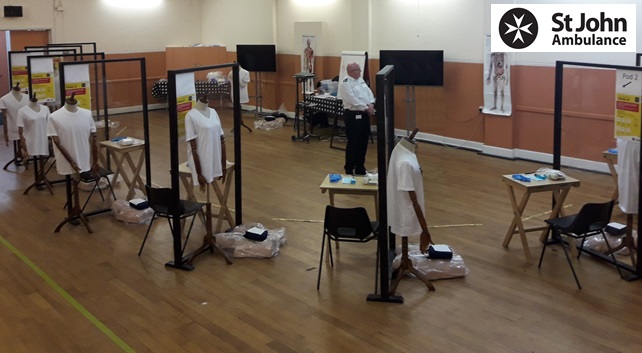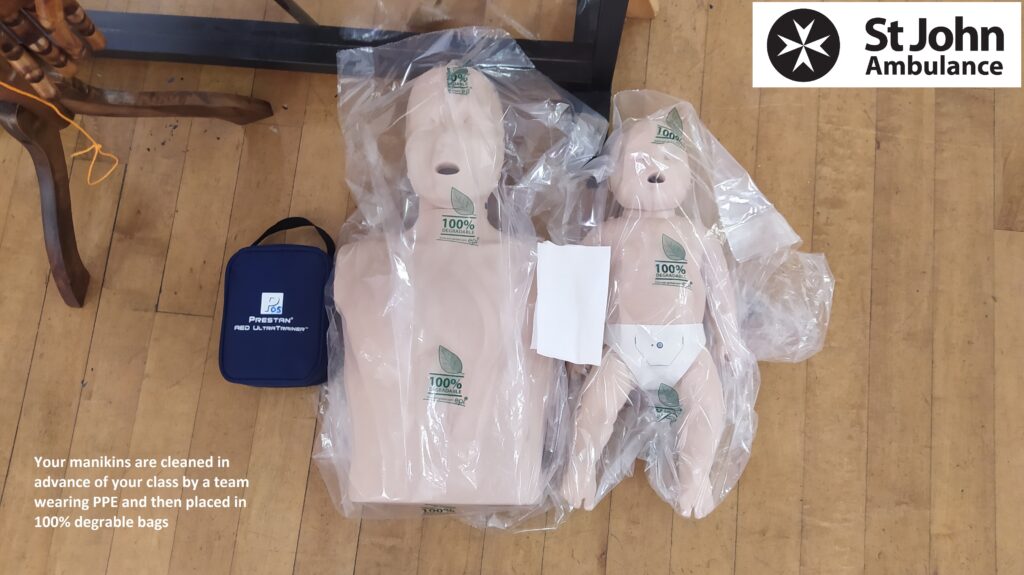 Tea, coffee and biscuits will be available at 2 stands within the hall. Only 1 person may attend the stand at a time. Learners will be asked to sanitise their hands before getting their tea/coffee. We encourage people to use a napkin when using the burco. All cups and spoons will be single use and either recyclable or biodegradable. Biscuits will be individually wrapped.
Only 1 male and 1 female can use the toilet at a time. There are elbow operated sanitisers en route from the training hall to the toilet.
On leaving the building learners will again need to sanitise their hands.
Max Number of Learners
The max number of instructor to learners is 1:10
Here's some testimonials from people who have completed our courses
When is the next available course?
The course is held on a bi-monthly basis, please see dates below.
How much does it cost?
The cost of the course is €65 per person and can be booked below securely using PayPal. If you wish to use another payment method then please contact 01 668 8077 or training@stjohn.ie where our team will be delighted to accommodate you.
Location
The courses listed below take place on our premises, 29 Lesson Street Upper, Dublin 4, D04 PX94. For other locations please email training@stjohn.ie.
How to help us promote this course?
Please spread the word to anyone you think would enjoy this course. If you can't attend yourself, but think the course is worthwhile, help us to promote it by sharing this on Facebook.