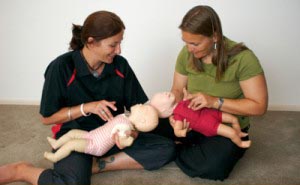 On this 4-hour course, you will learn to recognise and treat the most common illnesses and injuries suffered by babies and toddlers, everything from life-threatening conditions to bumps and scrapes.
A recent Mother and Baby magazine survey found that 83% of parents would not remember what to do in an emergency. Even a superficial knowledge of basic first aid can save lives and prevent long-term suffering and disability.
Here at St John Ambulance, we believe First Aid is an essential parenting skill. Thus, we have created this course to ensure the "grown-ups" know precisely what to do in the case of an emergency.
Is this course suitable for me?
This course is open to everyone responsible for babies and toddlers but is primarily aimed at parents or expectant parents who want to learn first aid skills. Babysitters, grandparents, aunts and uncles are all welcome to attend as well, though!
What will I learn on our course?
Incident management
Management of an unconscious baby or toddler
How to treat head injuries and febrile convulsions
How to treat shock and hypothermia
Resuscitation of a baby or toddler
Treatment of choking, poisoning, burns and scalds
Recognition of asthma, croup, meningitis, and treatment thereof
What will I receive on the course?
Each participant will receive the following items:
First Aid booklet
Foldable Baby & Toddler Safety and First Aid poster
Meningitis & Septicemia information leaflet and signs & symptoms card for wallet/purse
Request Emergency Dispatch (RED) Card
Keyring face shield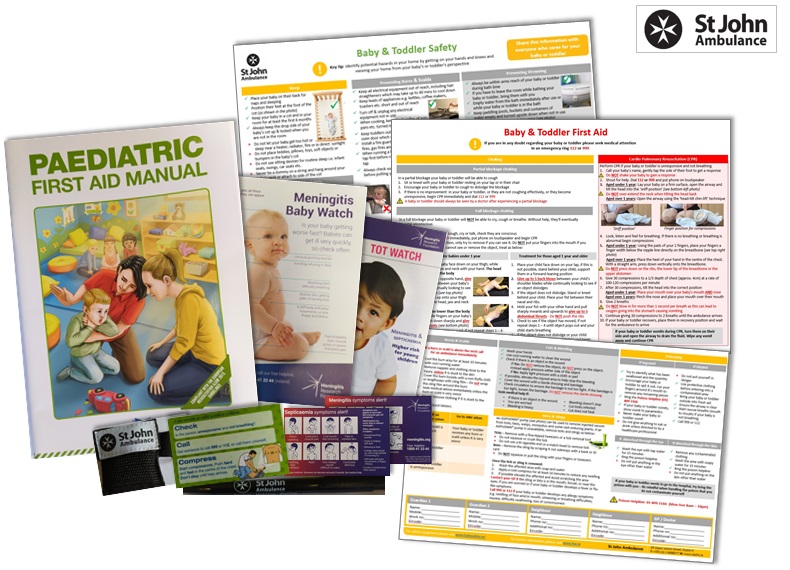 How many people will be on the course?
There will be a maximum of ten people on the course.
Will I receive a certificate in first aid?
As there is no formal assessment on this course, a St John Ambulance Certificate in First Aid is not issued; however, learners will receive an electronic Certificate of Attendance.
Can I bring my infant or child on the course, or are there child-minding facilities on site?
Unfortunately, infants and children are not allowed on the course, and we have no onsite child-minding facilities.
Where is the course located?
The course takes place on our premises at 29 Leeson Street Upper, Dublin 4, D04 PX94. For other locations, please email [email protected].
I am travelling by car, where can I park?
Free Parking is available on our premises (29 Leeson Street Upper, Dublin 4, D04 PX94) at the back of our building.
I use Public Transport; where is the nearest Bus, Luas, DART or Dublin Bike station?
We are located at 29 Leeson Street Upper, Dublin 4, D04 PX94. Please click the link below or download the file to see the nearest Bus, Luas, DART and Dublin Bikes stations.
How much does the course cost?
The course costs €65 per person.
The course can be booked below securely using PayPal. If you wish to use another payment method, then don't hesitate to get in touch with 01 668 8077 or [email protected].
I have a query, how do I contact someone?
If you would like to contact us, we are available by phone or by email.
Phone: 01-6688 077, the office is open: Mon to Fri 8.30 am to 1 pm, 2 pm to 5 pm.
Email: [email protected].
What other people say about this course