This course will provide you with the practical and possible life-saving skills to deal with an emergency situation. Focus is on the essential elements of first aid and life-saving skills.
Course Content
Scene and patient assessment
Recognising and treat choking
How to perform CPR and how to use an AED (defibrillator)
Recognising and treating stroke and  heart attack
Treatment of fractures, spinal injuries, sprains and strains
Treatment for shock and poisoning
How to treat and bandage wounds and other injuries
Recognising and treating concussion and compression
Please note, as per the new guidelines issued by PHECC (the Pre-Hospital Emergency Care Council), learners will learn compression only CPR. This means learners will not blow in to the manikin (i.e. no mouth to mouth).
How will I learn?
All our instructors have several years of practical experience in the field and in teaching. We teach theory sessions followed by practical sessions where the participants get the chance to test their new skills.
What will I receive on the course?
Each participant will receive the following items:
Emergency First aid booklet
Pocket Face Mask
Key-ring Face Shield
Request Emergency Dispatch (RED) Card
Student pack (this includes triangular bandage, roller bandage, wound dressing, sterile dressing, gloves)
Covid-19 information pack (this includes a 14-page 'First Aid & Covid-19 in the workplace' e-booklet, links to videos demonstrating correct hand hygiene and donning and doffing personal protective equipment (PPE) and 2 printable A4 posters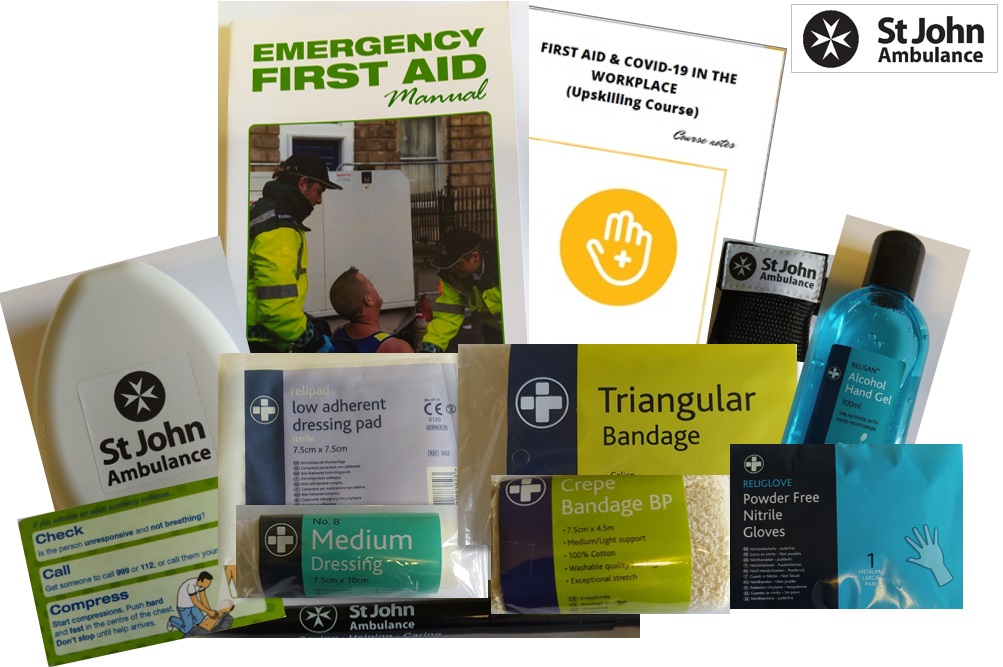 Assessment
The course is tested by continuous observation by the trainer and a multiple choice question paper.
Max Number of Learners
The ratio of instructor to learners is 1:10
Certification
Successful learners are issued with an electronic St John Ambulance Certificate in Emergency First Aid which is valid for 2 years.
Here's some testimonials from people who have completed our courses
Cost
The cost of the course is € 95 per person. Discounts are available is 3 or more people book the course. For further information on group discounts please email training@stjohn.ie or ring 01 668 8077
The course can be booked below securely using PayPal. If you wish to use another payment method then please contact 01 668 8077 or training@stjohn.ie
Location
The courses listed below take place on our premises, 29 Lesson Street Upper, Dublin 4, D04 PX94. For other locations please email training@stjohn.ie.