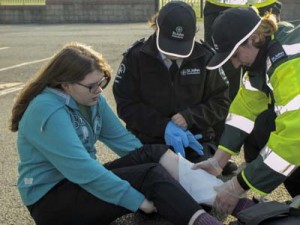 Cadets in St John Ambulance is a youth section of the organisation for young people aged between 11 and 18yrs. Cadets have played an important role in St John Ambulance Ireland since our cadet wing began in 1923.
Cadets are also uniformed members of the organisation and are certified first aiders who attend local and national events to provide first aid under the supervision of their cadet leaders and officers.
Cadet divisions (branches) are located throughout Ireland in counties where St John Ambulance has a presence. Cadets at their local division attend weekly training for up to two hours where they learn the life-saving skills of first aid. Cadets aged 14yrs and above are also in trained in the use of an automated external defibrillator (AED).
There is much more to being a cadet than first aid, cadets take part in lots of other fun and adventurous activities such as, attending summer camps, going ice skating, bowling, completing team building exercises and of course making new friends.
President's Badge Programme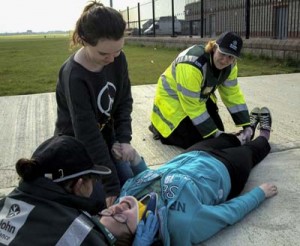 In your local division cadets' aim towards achieving the President's Badge which is an award presented by the President of the Council of St John Ambulance when cadets complete twelve subjects. Every year cadets complete four subjects from fire safety, water safety to camping and cookery skills, among much more. Cadets have up to their 21st Birthday to achieve the President's Badge which is the only badge that may be transferred from the cadet to adult uniform.
Being a cadet gives young people an opportunity to achieve their full potential by learning life skills which enables them to be good citizens, giving something back to their community.
If you or someone you know is interested in becoming a cadet please complete the form on this page.