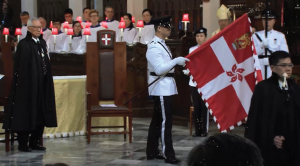 St John Ambulance Ireland is an organisation dedicated to the ideal that everyone should have immediate access to first aid no matter where they are or what they are doing at the onset of illness or injury.
With humble beginnings in Guinness's Brewery in 1903, the organisation has been at the forefront of acute care and training throughout Ireland for over 100 years.
St John Ambulance Ireland pro-actively responds to changes in the pre-hospital field, working alongside voluntary and statutory bodies, including the Pre-Hospital Emergency Care Council (PHECC) and QQI.
The organisation is run by unpaid volunteers at all levels, up to and including our Commissioner, the de facto Chief Executive Officer. St John Ambulance members are self-selecting from all walks of life, and with various levels of pre-hospital training, both before they join and once they are members.
Most join with no experience and through lifelong learning, become highly skilled pre-hospital practitioners. Indeed, quite a few of our members have joined as cadets and, through an interest fostered from a young age, have gone on to careers in the health service.
The organisation is governed by a Council, made up of unpaid volunteers, as well as by the Commissioner. We also have a small office staff of one full time and two part-time personnel who are paid at the equivalent level of Health Service employees of similar responsibility, without any additional benefits.
Opportunities exist for members to get involved in many aspects of running the organisation, whether it is advertising, administration, stores management, vehicle maintenance, event controlling, fund raising, communication or maintaining our web presence. Though the emphasis is on providing first aid, there is a large logistical operation constantly in progress to support our primary activities.
St John Ambulance is a registered charity and receives no State funding. The organisation is entirely dependent on contributions from the public and donations made by event organisers for services rendered by our volunteer members.