This 4 hour course equips participants with the correct manual handling techniques to lift and carry loads with reduced risk of injury. This course meets the requirements of the Safety, Health and Welfare at Work Act, (General Application) Regulations 2007 (SI No. 299 of 2007).
The course is suitable for anyone whose tasks include lifting, carrying, pushing or transporting objects e.g. boxes, crates, barrels, kegs,
This course is run at our premises in Dublin and at other locations around the country. We can also teach in-house at your premises if it is more suitable for you.
Course Content
Manual Handling defined
8 principles of lifting
Legislation
Anatomy and structures of the spine
Posture when lifting
Priorities of First Aid
Correct lifting techniques
What is it and how can it prevent injury
What is a Risk Assessment?
How to carry out a Risk Assessment
Training Methods
All our instructors have several years of practical manual handling experience and in tutoring. They are all qualified Manual Handling instructors.
We teach theory sessions followed by practical sessions where the participants get the chance to test their new skills.
Evaluation/Assessment
The course is tested through skills demonstrations and a multiple choice assessment.
Certification
Successful participants are issued with an electronic St John Ambulance certificate which is valid for 2 years.
What precautions are in place in light of Covid-19?
Since the onset of the COVID-19 outbreak, St John Ambulance Ireland has put strong measures in place to help prevent the spread of the virus and protect the health of our members and members of the public while carrying out our training courses. These measures include:
Prior to attending one of our training courses, learners will need to complete a visitor declaration form. On review of this form, St John Ambulance confirm your attendance. On the day of the course, learners will need to confirm there have been no changes to their visitor declaration form and they are symptom free.
Markers outside of the training hall indicate 2-meters social distancing. Learners will enter the porch and sanitise their hands using an elbow operated dispenser before entering the hall. Inside the hall there are markings on the floor outlining the walk routes to ensure social distancing is maintained. Learners will be asked to remain in these walk ways.
Learners will complete the practical in their own 'pod' which is separated either side by clear-perspex.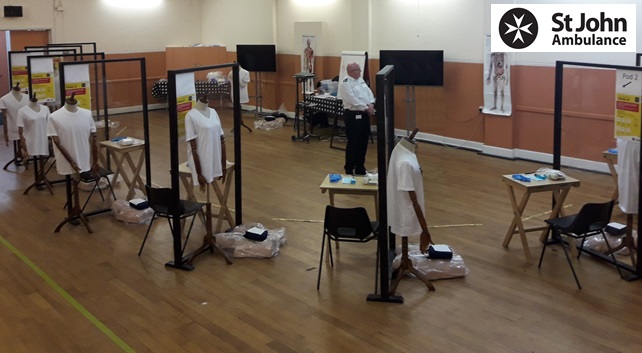 Tea, coffee and biscuits will be available at 2 stands within the hall. Only 1 person may attend the stand at a time. Learners will be asked to sanitise their hands before getting their tea/coffee. We encourage people to use a napkin when using the burco. All cups and spoons will be single use and either recyclable or biodegradable. Biscuits will be individually wrapped.
Only 1 male and 1 female can use the toilet at a time. There are elbow operated sanitisers en route from the training hall to the toilet.
On leaving the building learners will again need to sanitise their hands.
Max Number of Learners
The max number of instructor to learners is 1:10
Cost
The cost of this course is € 55 per person which includes a Manual Handling booklet. Booking Contact training@stjohn.ie with your details or book using the PayPal form below.
Location
The courses listed below take place on our premises, 29 Lesson Street Upper, Dublin 4, D04 PX94. For other locations please email training@stjohn.ie.