I am an employer, what are my obligations regarding first aiders and COVID-19 in relation to returning to work?
On the 9th May of this year, the government, in conjunction with Health and Safety Authority (HSA), the Health Services Executive (HSE) and the Department of Health and the Department of Business, Enterprise and Innovation published a "Return to Work Safely Protocol". This protocol provides guidance to employers to help safeguard their workers when returning to the workplace.
This protocol advises:
"Workers with a specific role in acting as first responders should be provided with updated training on infection prevention and control principles including performance of hand hygiene and appropriate use of personal protective equipment when delivering first aid"
In light of this protocol and the ongoing pandemic, St John Ambulance Ireland has developed a 1.5-hour online instructor-led course that will equip first aiders with the up to date information and procedures on Covid-19 for first aiders.
Further details on this course can be found on our courses page by clicking the link https://www.stjohn.ie/first-aid-courses/firstaidcovid-19-2/
I am a first aider, how do I treat or manage someone with COVID-19?
In light of COVID-19, St John Ambulance Ireland has developed a 1.5-hour online upskilling course. This course is instructor-led and will equip first aiders with the up to date information and procedures on Covid-19 for first aiders. Further information on this course can be found on our courses page https://www.stjohn.ie/first-aid-courses/firstaidcovid-19-2/
I would like to do a training course but I am worried about COVID-19, what precautions do you have in place?
Since the onset of the COVID-19 outbreak, St John Ambulance Ireland has put strong measures in place to help prevent the spread of the virus and protect the health of our members and members of the public while carrying out our training courses. These measures include:
Prior to attending one of our training courses, learners will need to complete a visitor declaration form. On review of this form, St John Ambulance confirm your attendance. On the day of the course, learners will have their temperature checked. Learners will also need to confirm there have been no changes to their visitor declaration form and they are symptom free before being allowed to enter the hall.
Markers outside of the training hall indicate 2-meters social distancing. Learners will enter the porch and sanitise their hands using an elbow operated dispenser before entering the hall. Inside the hall there are markings on the floor outlining the walk routes to ensure social distancing is maintained. Learners will be asked to remain in these walk ways.
Learners will complete the practical in their own 'pod' which is separated either side by clear-perspex. Each 'pod' will contain all the necessary equipment (for example in a first aid course, face mask, desk, chair, an adult tailor manikin (with fully movable arms, wrists, hands and fingers), a trainer AED (defibrillator), an adult CPR manikin and infant CPR manikin and various bandages and wound dressings.) All bandages / dressings and slings will be new and unopened. Learners may take these items home with them or dispose of them in the designated bin if they do not wish to keep them. The pods, desks, chairs, tailor manikins, CPR manikins and AED's (defibrillators) will be sanitised prior to the course by persons wearing appropriate PPE.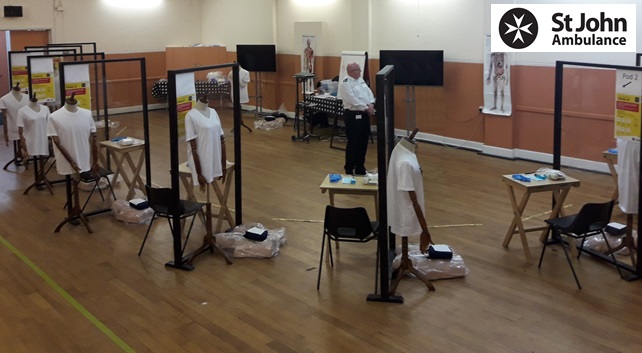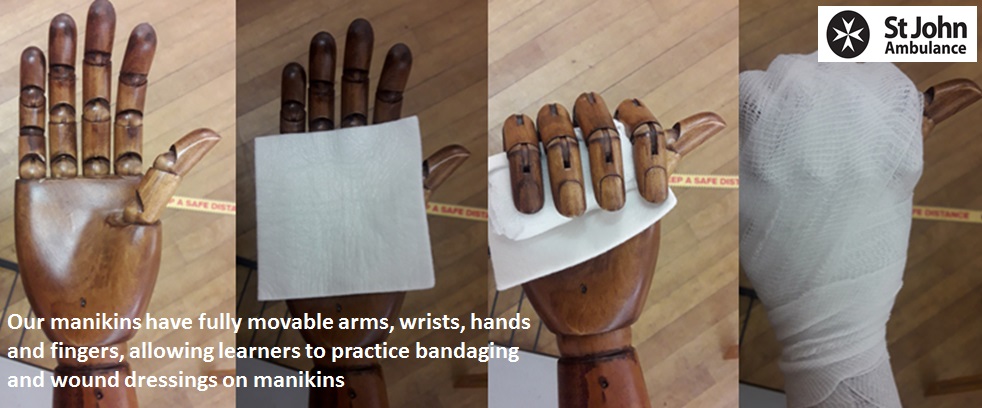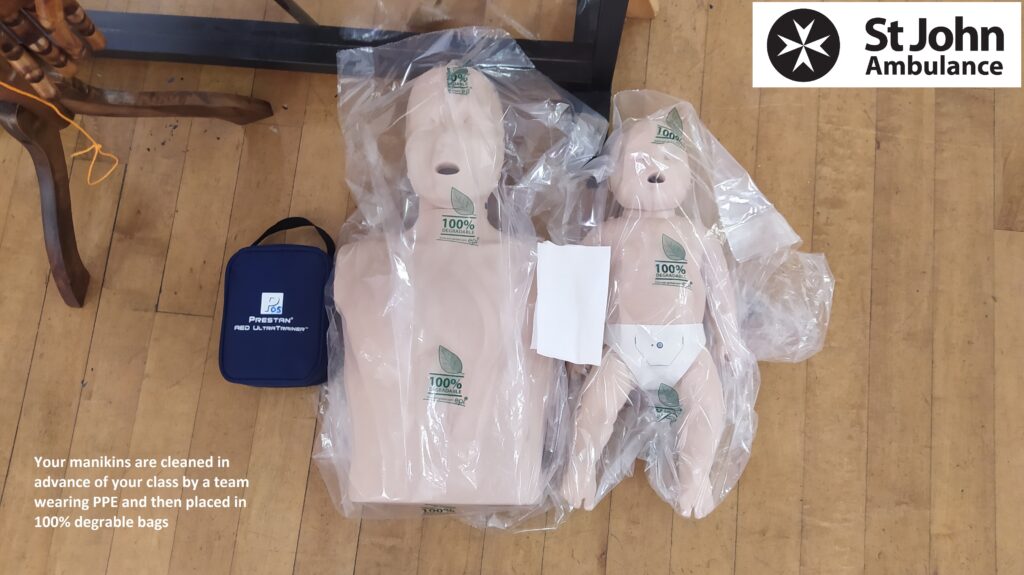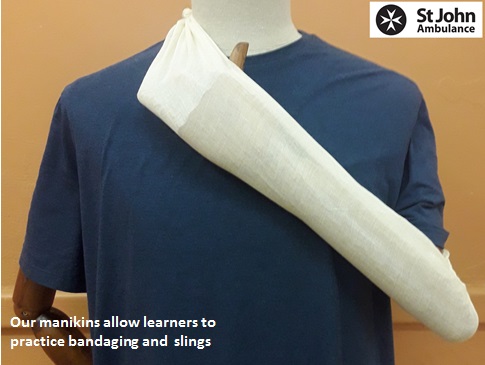 Tea, coffee and biscuits will be available at 2 stands within the hall. Only 1 person may attend the stand at a time. Learners will be asked to sanitise their hands before getting their tea/coffee. We encourage people to use a napkin when using the burco. All cups and spoons will be single use and either recyclable or biodegradable. Biscuits will be individually wrapped.
Only 1 male and 1 female can use the toilet at a time. There are elbow operated sanitisers en route from the training hall to the toilet.
On leaving the building learners will again need to sanitise their hands.
What training do you offer?
We offer training in first aid, manual handling and fire safety.
What kind of first aid courses do you offer?
We run first aid courses developed by St John Ambulance:
1-day Emergency First Aid
4 hour Baby & Toddler course
We also run first aid courses that were developed by the Pre-Hospital Emergency Care Council (PHECC):
4 hour Cardiac First Response Community (CFR-C)
3-day First Aid Response (FAR) – replaced the OFA course
2-day First Aid Response-Refresher – (FAR-R)
Do any of your first aid courses include CPR and AED training?
All of our first aid courses teach CPR and AED training with the exception of our Baby & Toddler course which teaches CPR only.
I am an employer, which first aid course is appropriate for my workplace?
The specific requirements for first aid provision at work depends on several factors including:
Size of the workplace
Numbers employed
Potential hazards
Type of work involved e.g. office vs. construction
Location of the workplace
Distance and how long from the medical services e.g. in a city beside a hospital or 50 miles from the nearest hospital etc.
These factors are generally considered when forming the risk assessment section of your Safety statement. It is up to the employer to determine which first aid course is most appropriate based on the risk assessment conducted. The Health & Safety Authority offers guidance on the recommended number of occupational first aiders required for different types of workplaces. This can be found on the Health & Safety Authority website.
How many of my employees are required to or should have a first aid qualification?
Again, this will be assessed in your risk assessment.
What is the difference between the First Aid Response course and the Occupational First Aid course?
The FAR course replaces and improves on the OFA course and it is the recognised standard meeting the requirements of the Safety, Health and Welfare at Work (General Application) Regulations 2007 (S.I.No. 299 of 2007).
If I have an occupational first aid certificate, can I do a FAR-R Course?
Yes, if you have a valid OFA cert you can complete the FAR-R course.
What happens if my FAR cert is out of date?
Refresher training should be completed on/before the expiry date of your previous certificate. A grace period of 30 days applies only in exceptional circumstances.
In light of the COVID-19 pandemic, PHECC (Pre-hospital Emergency Care Council), has allowed a short grace period to allow people to re-certify.  If your First Aid Response (FAR) certificate expired on or after the 1st March 2020 you will have until the 31st October 2020 to complete a FAR-refresher course. If you do not complete a FAR-refresher course by the 31st October 2020 you will need to complete the 3-day FAR course in order to hold a FAR certificate.
How long is First Aid Response Refresher course?
The PHECC FAR refresher course is 12 hours of instruction & assessments over 2 days
I have limited time, can I do the FAR refresher course in 1 day?
Can I attend one of your refresher courses if my previous training was with another provider?
Yes. The 2-Day Refresher course is open to anyone who currently holds a valid Occupational First Aid or First Aid Response Certificate which is due for renewal. Please provide a copy of your certificate at time of booking for validation purposes.
I have done an OFA/FAR course with another provider but do not have my cert, can I attend a FAR-refresher?
We will need to view a copy of your FAR/OFA cert before booking the course. Where you do not have copy of your certificate, please contact the first aid provider and they will be able to email you an electronic copy of the certificate that you can forward to us.
How long is the OFA/FAR cert valid for?
How long is the FAR-Refresher cert valid for?
I completed a 3-day occupational course abroad, is that recognised in Ireland?
No, there are no mutual recognition agreements between Ireland and other countries on occupational first aid. Therefore occupational first aid certificates obtained in other countries are not transferable and are not valid in Ireland. In order to be a valid occupational first aider in Ireland, you must do the training in Ireland.
I have a St John certificate from Canada, can this be used for my workplace in Ireland?
Again, there is no mutual recognition agreements between Ireland and other countries on first aid certificates. In order to be a valid first aider in Ireland, you must do the training in Ireland.
Can those under 18 years complete the first aid courses?
Only those over 18 years of age can participate in our public courses. If you have a group under 18s we can train them separately.
Can I bring my baby / toddler to the Baby & Toddler First Aid course?
No, only adults can attend the course.
Do I need to pay for the course in advance?
Yes, to secure the course booking you need to pay before the course date.We accept payment via paypal or if you don't have an account we accept credit cards, cheque
Do you offer group discounts?
For most courses we offer discounts if 3 or more people attend a course, please email training@stjohn.ie
What is your cancellation policy?
Cancellations made 5 working days or more before the course commencement date will be entitled to a full refund/credit
Cancellations of less than 5 working days may incur the full cost of the course.