The 2-day FAR-Refresher course replaces the former Occupational First Aid-Refresher (OFA-R) course. It is recognised by the Health & Safety Authority of Ireland (HSA) as meeting the requirements of the Safety, Health and Welfare at Work (General Application) Regulations 2007.
What will I learn on our course?
Scene assessment and management
Patient assessment
Recognising and treating choking
How to perform CPR and how to use an AED (defibrillator)
Recognising and treating stroke and heart attack
Treatment of crush injuries, fractures, spinal injuries, sprains and strains
Treatment for shock and poisoning
How to treat and bandage wounds and other injuries
Recognising and treating concussion and compression
How to recognise and treat hypothermia and hyperthermia
How to treat electric shock and chemical burns
What will I receive on the course?
Each participant will receive the following items:
First Aid Response (FAR) booklet
Student Pack (this includes triangular bandage, roller bandage, wound dressing, sterile dressing, and gloves)
Pocket Face Mask
Key-ring Face Shield
Request Emergency Dispatch (RED) Card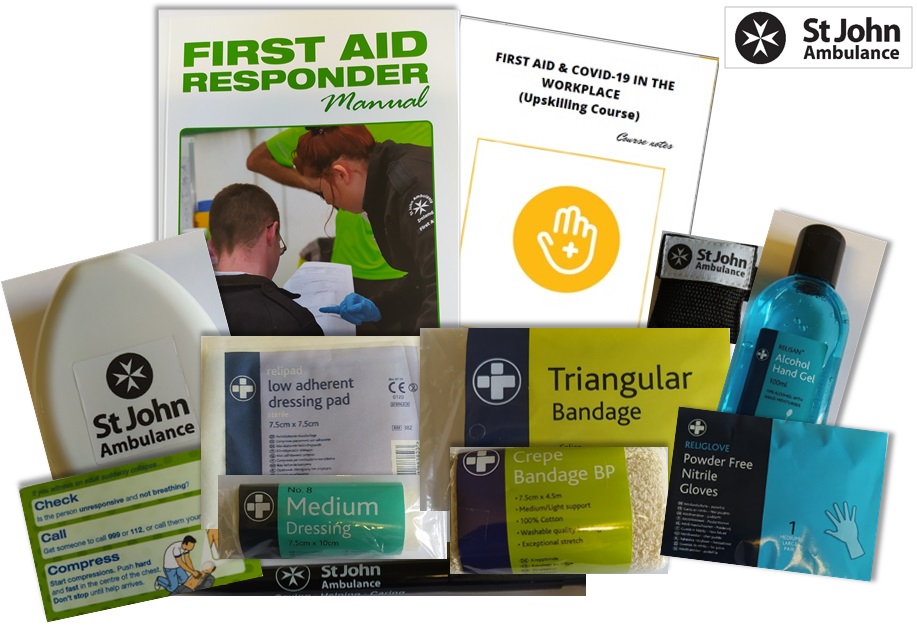 Are there any prerequisites?
To attend this course, you must have a valid First Aid Response (FAR) certificate. You do not have to have previously completed a FAR course with St John Ambulance – we welcome any person with FAR certification.
How many people will be on the course?
There will be a maximum of eight people on the course.
How will I be assessed?
Learners will be assessed on their practical skills and complete an MCQ (Multiple Choice Question) exam.
What certificate will I receive?
Successful learners will be issued with a PHECC FAR certificate which is valid for 2 years.
To keep the certificate valid, a 2-day refresher course must be completed before the cert expiry date.
Where is the course located?
The course takes place on our premises at 29 Leeson Street Upper, Dublin 4, D04 PX94. For other locations, please email [email protected].
I am travelling by car, where can I park?
Free Parking is available on our premises (29 Leeson Street Upper, Dublin 4, D04 PX94) at the back of our building.
I use Public Transport, where is the nearest Bus, Luas, DART or Dublin Bike station?
We are located at 29 Lesson Street Upper, Dublin 4, D04 PX94. Please click the link below or download the file to see the nearest Bus, Luas, DART and Dublin Bikes stations.
How much does the course cost?
The course costs €195 per person. Discounts are available if 3 or more people book the course. For further information on group discounts, please email [email protected] or ring 01 668 8077.
How do I pay?
Payment can be made securely using the online booking form below.
If you wish to pay by Invoice, Bank Transfer or over the phone with a credit card, please email [email protected] or ring 01 668 8077.
What other people say about this course