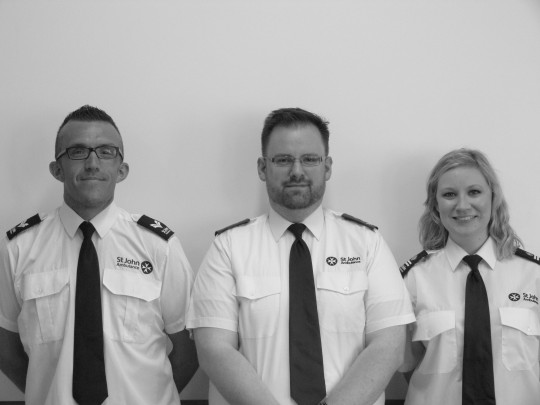 Glasnevin Division, incorporating Lansdowne Division.
In 1958 Cadet Superintendent Kathleen Fitzgerald of St Patrick's Nursing Cadet Division set up the Student Nurses Division. As cadets were not transferring to the senior Divisions this new division was to act as a bridge between the cadet and adult divisions.
Ms Fitzgerald started out with six members of the St Patrick's Division. On the 4th December 1958, Maureen Caffrey transferred from Leinster Cadet Division and was appointed Divisional Officer.
Over the next four years the Student Nurses Division prospered, and in 1963 it was decided that the division should become a "senior" (adult) Nursing Division. It was named Lansdowne Nursing Division. Ms Fitzgerald lived close to the Lansdowne football ground so the name seemed appropriate. Unfortunately, Ms Fitzgerald became ill a year later and in 1964 passed away. Mrs McMorran was then appointed Superintendent, followed by Mrs Janet Stephenson as Superintendent.
The division continued to grow and with it the interest in competition training. The division attained a very high standard and many trophies were won in Cork, Limerick and Dublin.
Through the sixties and seventies the division grew with as many as 25 members on the roll. The death of Mrs Stephenson in 1973 was a great blow to the division but they continued on with their work with Mrs Sheila Treacy and Mrs Kathleen Gahan, both sergeants, at the helm.
In October 1975 Mrs Gahan was promoted to Supt. of Headquarters Nursing Cadet Division and Mrs Treacy became Supt. of Lansdowne Nursing Division.
In 1976 huge changes took place within the Brigade when new divisions were formed in the suburbs. Some of the members of the Lansdowne Division left in order to help set up these new divisions.
In 1977 Mrs McGrath was promoted to Divisional Officer. In 1979 Mrs Treacy left the Division to go on staff and formed the Cabinteely Nursing Division. Mrs McGrath was promoted to Superintendent. In 1983 Mrs Phyllis (Phil) Byrne was promoted to Divisional Officer. During these years of immense change our success in competitions continued.
Towards the end of the eighties the number of members in the Division had decreased to five, recruitment was failing to bring in new members. Mrs McGrath decided that something needed to be done, so in 1989 the division moved out of headquarters and took up residence in Aughrim Street Parish Centre in Prussia Street. A public first aid class was held and as a result the division added ten new members.
In 1994 Mrs Byrne was promoted to Superintendent. The division continued to grow from strength to strength over the next number of years. In 2004 the division moved to its current location in Beneavin College where it became the parent division of Finglas/Glasnevin Cadet Division.
In 2013 Mrs Byrne was promoted to District Officer and Mr Robert Tancred, 1st Divisional Officer, became Officer in charge.
In early 2016 Mr Tancred decided it was necessary for the division to change its name to have more meaning in its locale, and so Glasnevin Adult Division, incorporating Lansdowne Division was born.
At present the division has 21 adult members, 1 ambulance, and is the parent division of 3 cadet divisions; Clontarf, Finglas/Glasnevin, and Lucan. The division prides itself on its high training standards, and commitment to providing cover at both local and National events.