Foxrock Division Posts
All the latest news from Foxrock Division
Ironman 2017: Manning the Emergency Evacuation Point
Foxrock's part in all this
Foxrock Adult Division had an early start this morning, with a 5:00am report time to help oversee the swimming portion of the Ironman 70.3 Triathlon race. Tensions were high amongst the competitors as the first wave of 2,400 pro and amateur athletes set out at 7:00am sharp from Sandycove beach, all hoping to complete the gruelling 1.9KM swim in the first section of the race.
Medical Preparation and training had been done by St John Ambulance in anticipation of the kind of injuries to be expected at this type of event. There were 25 members present from a variety of divisions from around Dublin, with 13 members being from Foxrock. We also had 4 ambulances and 1 4×4 response vehicle on scene. A plan of action based on experiences at previous Dublin Ironman races in and distributed to members. Foxrock division was placed at the front line with our sister divisions to man the emergency evacuation point, and our EMT equipped ambulance SJ75 was stocked and ready to assist, members from Foxrock also manned a smaller First Aid post in the transition tent where competitors came out of the water and prepared for the cycling portion of the race.
The first wave of swimmers entered the water with the pro's fighting it out for the top spot while being closely monitored by marine support staff. The amateur swimmers followed close behind the leaders and the first wave of patients arrived around 8.00am. Common injuries to be expected at these types of events would be cramping, hypothermia, exhaustion and swallowing water, to name a few! We had all practiced and trained for these kinds of scenarios so that we could deal with them effectively.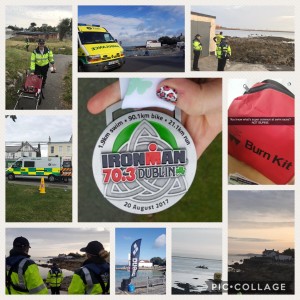 The event overall was a huge success with fewer than 10 patients having to be treated and one critical patient needed to be transferred to hospital. Foxrock Adult enjoyed a pleasant morning putting their skills and knowledge to the test while enjoying the sunrise over Dun Laoghaire bay because sure what else would you be doing on a Sunday morning….