The 2-day FAR-Refresher course replaces the former Occupational First Aid-Refresher (OFA-R) course. It is the recognised by the Health & Safety Authority of Ireland (HSA) as meeting the requirements of the Safety, Health and Welfare at Work (General Application) Regulations 2007 (S.I.No. 299 of 2007).
Course Content
Scene and patient assessment
Recognising and treat choking
How to perform CPR and how to use an AED (defibrillator)
Recognising and treating stroke and heart attack
Treatment of crush injuries, fractures, spinal injuries, sprains and strains
Treatment for shock and poisoning
How to treat and bandage wounds and other injuries
Recognising and treating concussion and compression
How to recognise and treat hypothermia and hyperthermia
How to treat electric shock and chemical burns
What will I receive on the course?
Each participant will receive the following items:
First Aid Response (FAR) booklet
Pocket Face Mask
Key-ring Face Shield
Request Emergency Dispatch (RED) Card
Covid-19 information pack (this includes a 14-page 'First Aid & Covid-19 in the workplace' e-booklet, links to videos demonstrating correct hand hygiene and donning and doffing personal protective equipment (PPE) and 2 printable A4 posters for your workplace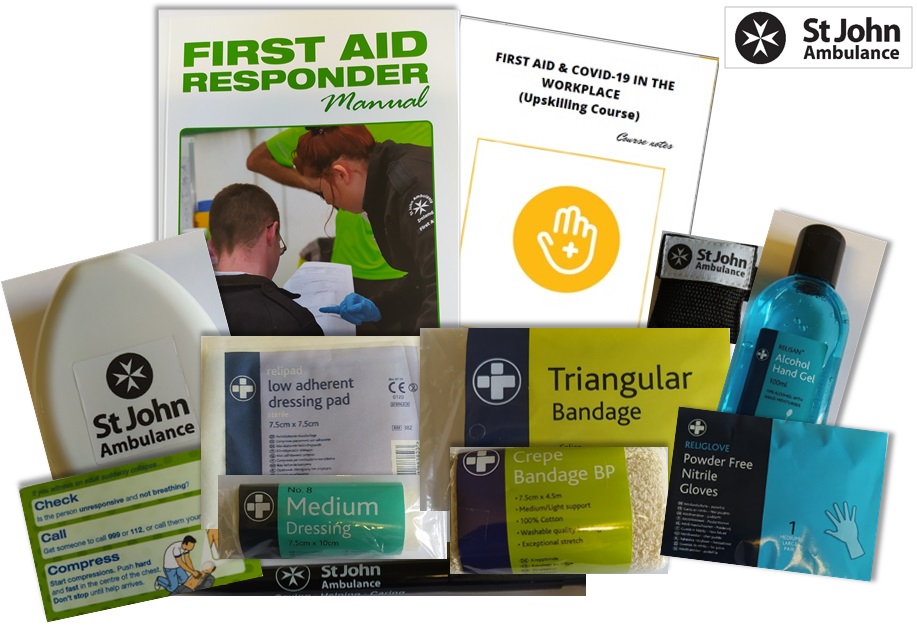 Assessment
Learners will be assessed on their practical skills and complete a MCQ (Multiple Choice Question) exam
Max Number of Learners
The max number of instructor to learners is 1:8
Certification
A PHECC FAR certificate is issued to all successful participants (which is valid for 2 years).
A 2-day refresher course must be attended within this period to keep the certificate valid.
Cost
The cost of this course is € 195 per person
Discounts are available for groups.
Discounts are available for group bookings. For further information on discounts please email training@stjohn.ie
You can book and pay securely via PayPal using the form below. You can also book a course or make an enquiry by calling our office on 01-668-8077 or by mailing training@stjohn.ie.