The Limerick Nursing division of St John Ambulance Ireland was founded in the immediate aftermath of the 1916 Rising. With over 100 members joining in its first six months, it was one of the fastest growing branches of the organisation at the time.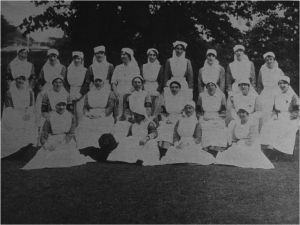 Unfortunately, that division disbanded in 1923, and Limerick would be without a St John Ambulance presence until January 23rd, 1936. On that date, then Mayor of Limerick JM Casey presented first aid certificates to the founding 21 members of St John Ambulance Limerick. The division had been reformed after a year-long endeavour.
Since its establishment in 1936, the Limerick division of St John Ambulance Ireland has been steered in its work by 12 Superintendents; the most recent of whom, Austin Florish, took the reins in 2012.
At present, Limerick boasts a membership of 80, ¼ of whom are cadet members. The division's membership spans all skill levels from First Aider to Doctor. The adult division serves at an average of 180 duties a year, just fewer than one every two days, and provides approximately 4,500 hours of volunteering to the community annually.
The division has a large fleet of vehicles; 3 ambulances, one 4×4 response vehicle and a cycle response unit. In its 80 years of operation, St John Ambulance Limerick has become synonymous with professionalism and high quality training & delivery. Some of its members recently marched in the Centenary Celebration Parade in Dublin.
Limerick recently became the first division outside of Dublin to host the national St John Ambulance competitions, combining the celebration of its 80th anniversary with a competition weekend.
The Iveagh & Caring Cups were won by Foxrock division.
The Novice Cup was won by Dundrum division.
The opportunity was also taken to relaunch the Munster Cup after a 30-year absence. It was, fittingly, won by members of Limerick division.