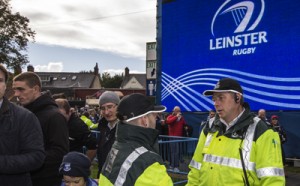 St. John Ambulance can provide first aid and ambulance cover at national and local events throughout Ireland.  We pride ourselves in providing highly trained personnel, cycle responders and emergency vehicles for all types of public event. Our organisation is a leader in pre-hospital emergency event cover with over 110 years experience.
In keeping with our commitment to provide the best service, our members include First Aiders, Cardiac First Responders, Emergency First Responders, Emergency Medical Technicians, Paramedics, Advanced Paramedics, Doctors and Nurses. Our practitioners are certified by the Pre-Hospital Emergency Care Council (PHECC) and are approved to implement PHECC's Clinical Practice Guidelines (CPGs).
We can advise you as to what level of first aid or ambulance cover is appropriate for your event.  We can provide you with all the first aid equipment necessary; defibrillators (AEDs), ambulances, first aid posts etc. Our fleet and personnel meet in full the requirements set down by the Pre Hospital Emergency Care Council. Additionally we have the capability to put a 20 bed field hospital in situ at your event which make St John Ambulance Ireland an  excellent choice for event cover no matter how big or small.
Whether it be a small local community event, a corporate event, a major sporting event or concert, St  John Ambulance can provide the cover you need.
Among our regular clientele are:
IRFU, FAI, Cricket Ireland, RDS, Leinster Rugby, Aviva Stadium, Dublin Marathon, Iron Man, MCD, Aiken Promotions, St Patrick Festival, League of Ireland, Croke Park and the GAA.
Examples of events we cover.
Rugby matches

Soccer matches
GAA matches
Concerts
Local Sports Events
Dublin/Cork City Marathons
Local Community Events
Dublin Horseshow
St. Patrick's Day Festival.
To arrange event cover, please complete the Event Cover Application Form. This is an editable PDF, so can be downloaded to your computer, completed electronically, saved, and returned by email.
If you so choose, you may print, complete by hand, and post it to the below address.
Send the completed form to eventcover@stjohn.ie, or print & post to:
John McFarland Campbell,
National Operations Administrator,
St John Ambulance Ireland,
29 Upper Leeson St,
Dublin 4
D04 PX94
On receipt of the completed application, we will contact you to discuss first aid cover for your event.