Written by Pádraig Allen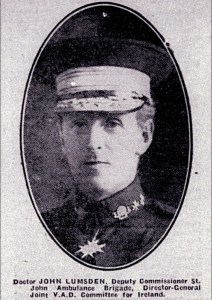 Dr John Lumsden (1869-1944) worked at Mercers Hospital and at Guinness', where he was Chief Medical Officer. During his tenure there, Lumsden often undertook work above and beyond his required services.
At Guinness', he carried out a major study in public health, visiting over 1,700 Guinness employees' dwellings. At the turn of the century, Dublin had the worst mortality rate in the British Isles. Problems arose from overcrowded tenements, poor sanitation and a lack of nutritious food, with many families also in debt. Lumsden delivered his findings to the board with his recommendations for employees of Guinness'. Board members at the time includes Lord Iveagh and Sir Reginald Guinness; a nephew of Arthur Guinness.
First division of St. John Ambulance
Dr Lumsden began both teaching first aid and promoting Public Health and Welfare, which helped improve the living conditions of many families across Dublin.
Another endeavour of his was the set up the first division of St John Ambulance at Guinness', in response to a request to him to train staff in first aid. Dr Lumsden was appointed Superintendent of the St James' Gate Division.
In 1905, the City of Dublin Ambulance Division was formed; the first unit open to members of the public for membership.
In October 1914, Dr Conway Dwyer – President of The Royal College of Surgeons Ireland – was giving a lecture to members of St John Ambulance at the RDS in Ballsbridge. The lecture was on the treatment of wounds inflicted on the battlefield and septic wounds. It was followed by an address from Dr Lumsden. The War Office had made Ireland an Official District, now called St John Ambulance Brigade No.12 District.
In November 1914, Sir James A. Clarke (Chief Commissioner of the St John Ambulance Brigade) authorised several promotions in Ireland, including the promotion of Dr Lumsden to position of Deputy Commissioner of the Brigade in Ireland. This made him the highest-ranking officer of the St John Ambulance Brigade in Ireland.
Lumsden was invested as a Knight of Grace of the Order of St. John of Jerusalem in 1915 (later to be promoted Knight of Justice on approval of the Grand Prior and the Duke of Connaught). King George V also made him a Knight Commander of the Most Excellent Order of the British Empire (KBE) for his services during the Easter Rising, as well as for his efforts in setting up St John Ambulance in Ireland.
A year after the death of Holden Stodart, the St John Ambulance Brigade wanted to remember the bravery of one its courageous members who had fallen during the 1916 Rising. The Deputy Commissioner felt that the most diligent way to remember him would be to open a hospital ward in his name.
Sir Lumsden started an appeal to fund the ward; he himself donated £200 and offers soon flowed in from all around Ireland. The appeal raised £724, enough to open the 14-bed Holden Stodart Ward in the Duke of Connaught's Hospital in Bray for Limbless Soldiers and Sailors.
Sir Lumsden was appointed Director General of Voluntary Aid Detachment in Ireland; here he took joint control of the British Red Cross Society in Ireland and the St. John Ambulance Brigade in Ireland. He became the first Commissioner of the St. John Ambulance Brigade of Ireland and, as early as 1940, started the process that would ultimately result in the organisation being fully independent of Great Britain.
Sir John had many achievements that set a milestone in medicine and healthcare in Ireland. Lumsden promoted Public Health and Welfare throughout his life. He advertised across national newspapers and picture houses looking for blood donations. Many answered, and were presented medals in appreciation of their goodwill. These actions established what would eventually become the Irish Blood Transfusion Service.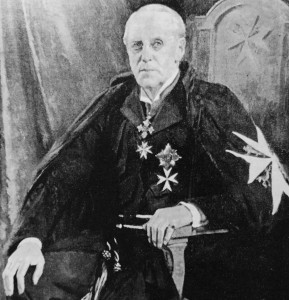 A portrait by Leo Whelan R.H.A. was presented to Sir. John Lumsden in 1938 by the St. John Ambulance Brigade for his distinguished service and honourable leadership of the organisation during the First World War, Easter Rising and The War of Independence.
The painting is still on display in National Headquarters of St John Ambulance Ireland; Lumsden House.