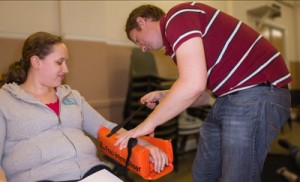 PHECC OFA Course transitioning to First Aid Response IMPORTANT INFORMATION. READ FIRST!
Having staff trained in First Aid will help to reduce the effects and seriousness of any accidents or injuries that occur in the workplace, and will also provide staff with peace of mind. First aid provision is a legal requirement for employers.
This course runs over three full days at our premises in Dublin, Cork, and at other locations around the country. We can also teach in-house if it is more suitable for employees and employers.
Our course is externally accredited by QQI as a Level 5 certificate and is meant for those who intend to act as appointed first aiders in their workplace.
How much does the course cost:
The cost of this course is €300 including first aid manual and training materials.  The cost reflects a high trainer to trainee ratio, an emphasis on small-group learning, and the fact that successful completion leads to QQI Level 5 and OFA certification, which covers business needs under Health and Safety regulations.
How is it tested?
The course is tested by an theory examination and practical assessment. The QQI Certificate is valid for two years, with an ongoing option to extend if done so during the life of certification or within 90 days of expiry of current cert.
How long does the course last?
3 full days. The course starts at 9am till 5pm each day with breaks in between.
What is the syllabus?
Managing Incidents
Resuscitation including A.E.D. 
 Poisoning
 Patient Examination
Fractures 
 Miscellaneous Injuries
Priorities of First Aid 
Control of Bleeding
 Communications
 Unconsciousness
Wounds & Dressings
How to use an Automated External Defibrillator 
 Heart Attacks
Burns & Scalds 
Why train with  St John Ambulance Ireland?
You will be taught by an experienced trainer. Our trainers are also experienced First Aiders who will show you how the skills you learn can be be applied in a real situation. Our courses teach the most up-to-date protocols, as approved by National and European bodies.

You can book and pay securely via PayPal using the form below. You can also book a course or make an enquiry by calling our office on 01-668-8077 or by mailing training@stjohn.ie.