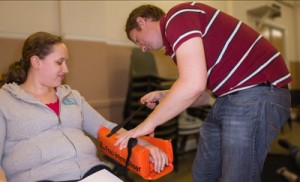 This 3-day course replaces and improves on the OFA course and is the recognised standard meeting the requirements of the Safety, Health and Welfare at Work (General Application) Regulations 2007 (S.I.No. 299 of 2007).
The HSA recognise the PHECC First Aid Response Education and Training Standard (FAR) Course as meeting the needs of occupational first aid in all workplaces.
This course is run at our premises in Dublin, Lumsden House, 29 Upper Leeson Street, Dublin 4, and at other locations around the country. We can also teach in-house at your premises if it is more suitable for you.
Course Content
Managing Incidents                                       Control of Bleeding                               Resuscitation including A.E.D
Communications                                            Poisoning                                             Unconsciousness
Patient Examination                                       Wounds & Dressings                           Fractures
How to use an AED                                        Miscellaneous Injuries                         Heart Attacks and Strockes
Priorities of First Aid                                       Burns & Scalds                                   Sprains and Strains
Training Method
All our instructors have several years of practical first aid experience in the field and in tutoring. They are all qualified FAR instructors.
We teach theory sessions followed by practical sessions where the participants get the chance to test their new skills.
Evaluation/assessment
The course is tested through skills demonstrations and multiple choice questions.
Certification
A PHECC FAR certificate is issued to all successful participants which is valid for 2 years. A 2-day refresher course must be attended within this period to keep the certificate valid.
Max Participants
Classes are restricted to 8 trainees to ensure you gain and retain a strong knowledge of practical skills.
Cost
The cost of this course is € 355 per person which includes the supply of a first aid manual and training materials. The cost reflects a 1:8 trainer-to-trainee ratio, an emphasis on small-group learning, and successful completion leads to a PHECC FAR certificate which covers business needs under Health and Safety regulations. Discounts are available for groups.
You can book and pay securely via PayPal using the form below. You can also book a course or make an enquiry by calling our office on 01-668-8077 or by mailing training@stjohn.ie.