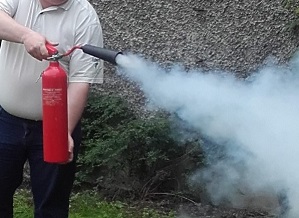 This 1-day training course provides knowledge and training in fire safety as required by the Safety, Health and Welfare at Work Act 2005 and the Fire Services Act 1981.
What you will learn on our course
At the end of this course you will know your duties as a Fire Warden and the actions to be followed during a fire or an emergency. It will also provide you with the skills to recognise the importance of fire prevention and how to implement a fire prevention ethos within the workplace. Practical experience of using a fire extinguisher is contained in the course (subject to suitable conditions – not on an actual fire).
The course will also focus on Personal Emergency Evacuation Plans (PEEP), record keeping, fire drills etc. We promote the culture of prevention rather than cure.
This course runs at our premises in Dublin and at other locations around the country. We can also teach in-house if you have the facilities and it is more suitable for employees and employers.
Course Content
Mechanics of Fire                              Fire House Keeping                         Action if Fire discovered
Behaviour of Fire                               Pre/during/post Fire Duties              Fire Prevention
Understanding Fire Spread               Evacuation Procedures                    Fire Extinguishing Media
Classifications of Fire                        Legislation                                        Practical use Fire Fighting Appliances
Training Method
All our instructors are operational/retired fire fighters with either a Level 7 degree or higher in Fire Safety Engineering or FETAC level 6 qualification and certified instructors.
The course is completed through the combined media of presentation, DVD and practical demonstrations. The course is carried on in a relaxed and interactive atmosphere with encouragement to discuss scenarios.
Evaluation/Assessment
The participants are assessed on a continuous basis throughout the course.
Certification
Successful participants are issued with a Fire Warden certificate which is valid for 2 years.
Cost
The cost of this course is € 85 per person and includes the supply of a relevant book. The cost reflects a high trainer-to-trainee ratio and an emphasis on small-group learning.
Please use the PayPal form below to securely book and pay for your course. If you wish to use an alternative method of payment, please contact our Training and Development department by clicking here